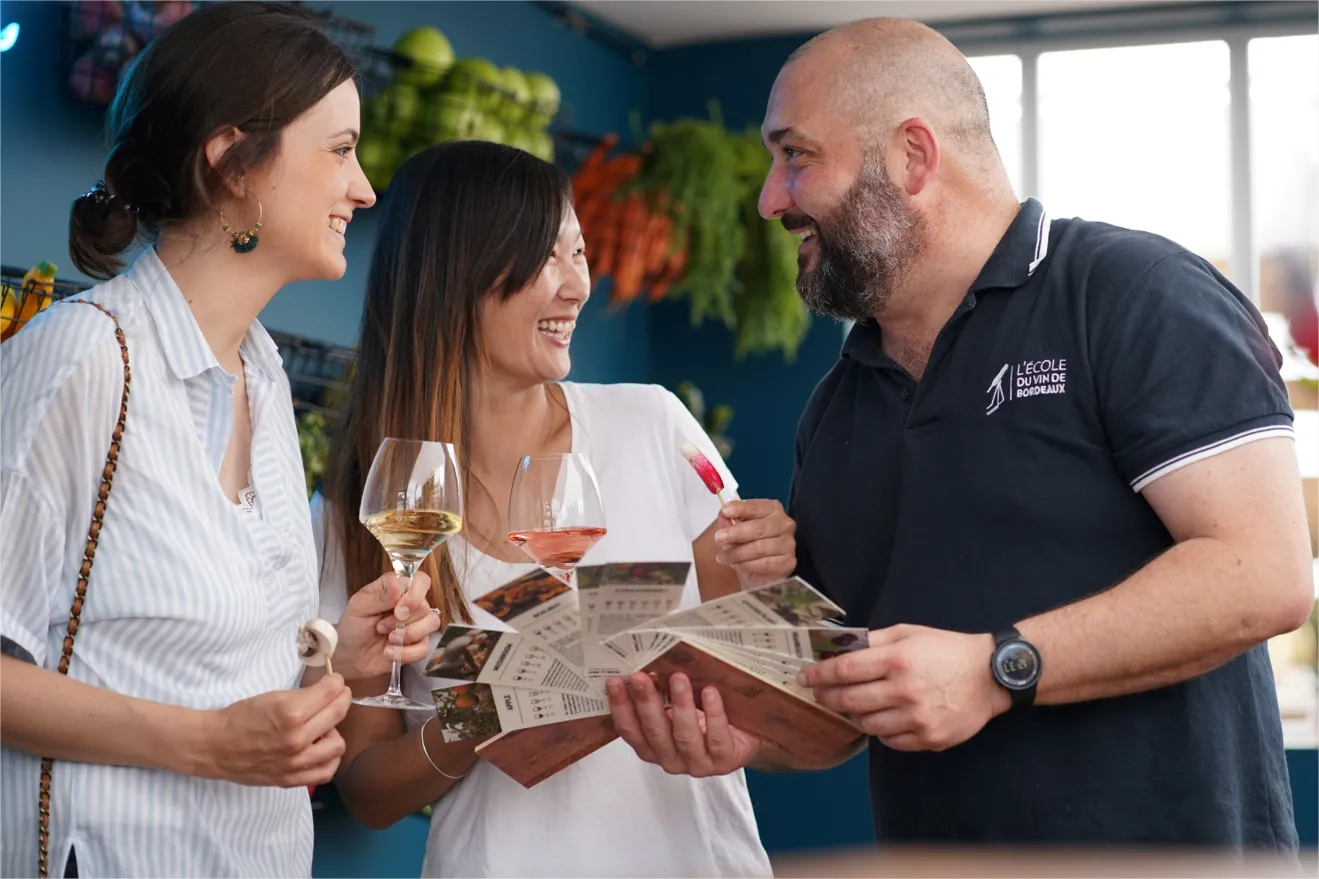 The Bordeaux Wine School: Learn to appreciate more!
Welcome to the heart of the party! To share with you the little and big secrets of the Bordeaux vineyards, the Bordeaux Wine School is bringing them directly to you in its pavilion: a way to experience the rest of your wine route even more intensely... On the programme? Many unusual and uninhibited experiences for those thirsty for new discoveries. Here, no teachers, but winegrowers, oenologists and sommeliers who never miss an opportunity to share their passion for Bordeaux wines.
(Re)discover the Bordeaux vineyard & its wines
It is usually in the heart of the city that the school welcomes all those who wish to learn more about vineyards and wine. For the duration of the festival, the school will take up residence in Munich Square. In its flagship pavilion, three areas offer a variety of atmospheres and themes to allow everyone, whatever their knowledge, desire and time, to explore the wines of Bordeaux. All you have to do is choose!
CHECK OUT THE 2023 PROGRAMME
La Scène* (The Stage)
With your Bordeaux Fête le Vin tasting pass, take advantage of one of the fun 30-minute workshops on the stage, simply by booking and presenting your pass. Five (re)creative themes are proposed to introduce you to Bordeaux wines:
Blind tasting - The must: Embark on a tour of the Bordeaux vineyards and its grape varieties, punctuated by fascinating olfactory exercises. Every day: 11.30am - 12.15pm - 3.15pm.
Wine & Cheese - The French Way: Travel through mouth-watering pairings while filling up on knowledge and anecdotes about this culinary pairing that is the envy of the world. Every day: 2.30pm - 4pm - 5.30pm
Bordeaux sparkles - The trendy one: Immerse yourself in a moment of pure festive effervescence, in the (re)discovery of a delicious product that is 100% local and convivial. Every day: 4.45pm
Let's eat! - The gourmet: Here, we whet our appetites with unsuspected combinations of flavours, as simple as they are effective for every gourmet moment of the summer... Every day: 1pm (theme: Brunch) - 1.45pm (theme: Picnic) - 6.15pm (theme: Aperitif)
Rock'n'wine - The mythical: Go through a wine tasting like you would a musical score: the experience not to be missed that sets the party alight every evening! Every day: 7.00 pm - 7.45 pm - 8.30 pm - 9.15 pm - 10.00 pm
Experiential space
AT THE COUNTER
Taste Bordeaux as you have never tasted it before:
1. The vine in the kitchen
With ingredients picked in the heart of the vineyard, you can cook a recipe that is both appetizing and surprising, and that goes naturally with Bordeaux wines.
11:30am - 12:10am - 12:50am - 30-minute workshops
2. Varietal bar
At the counter, no glass or bottle, but three mysterious single-variety wines: so who is who? Guided by our trainer, drop the codes of tasting to better know and understand the signature of Bordeaux wines: the blend. This explosive experience is like no other!
1.30 pm to 5.50 pm - 20-minute workshops - Continuous
3. At dusk... The Bordeaux Tonic!
Take control of your cocktail! With the help of our mixologist, twist a different Bordeaux wine each evening: Dry white, sweet white, Crémant and Rosé.
Titillate your senses to simply understand the notion of balance and learn how to sublimate these wines to spice up your aperitifs!
5.50pm to 11pm - 20-minute workshops - Continuous
AROUND THE TABLE
Free access to other explorations awaits you:
1. Wine's up
Throughout the three stages of tasting: guess or have someone else guess the mystery wine in pairs. A fascinating game to learn the codes of wine tasting in pairs... where deconstructing your sensations can turn out to be deliciously funny!
11.30 a.m. to 3.30 p.m. - 15-minute workshops - Continuous
2. Geo-sensory tasting
"Tell me where your wine comes from and I'll tell you who it is": the experts at Derenoncourt Consultants share their secrets with you to understand the impact of terroir on the taste of wine. In our box of tricks, everything is provided for a playful discovery! The soils of Bordeaux are revealed before your eyes in all their diversity, before a captivating comparative tasting.
15.30 - 16.15 - 17.00 - 30-minute workshops
3. At dusk... The Wine Casino!
A game mat, some chips, a glass of wine: place your bets! Will you be able to bet on the right answers in this blind tasting? Our trainer leads the game: try your luck, build up your knowledge and enjoy the atmosphere! We bet you'll remember this mystery wine for a long time...
5.45pm to 11pm - 15-minute workshops - Continuous
More about the Bordeaux Wine Festival