Artisans & Producers
Take your taste buds on a journey through the Nouvelle-Aquitaine region and throughout France. From regional farms to local producers, the gastronomic village will delight all gourmets. What do they have in common? Fresh, home-made products!
Salty side
With vegetarian option 🌱
Marayne de Bartassac 🌱
A family farm in the South of Gironde, the Marayn de Bartassac cheese factory uses an ultra-natural method of cultivation to develop its business and offers cheeses made using traditional methods.
Marc Druart, OYSTERS
Explore the flavours of Marc Druart's Bay of Arcachon oysters with a glass of white wine.
Pierre Oteiza, BREEDER AND CRAFTSMAN
Pierre Oteiza is a farmer and pork butcher located in the heart of the Aldudes valley in the Basque Country and has been committed to sustainable development for several years. All the sandwiches are made directly on site.
La Ferme de Hournadet
Located in the Landes, in the heart of the Chalosse region, land of gastronomy, La Ferme de Hournadet specialises in the breeding of ducks and the production of confits, preserves and foie gras.
Crêpe SUZETTE 🌱
Suzette Crêperie Urbaine is the first crêperie specialising in street food in Bordeaux. Using fresh products and certified ingredients, Suzette offers gourmet dishes made in 3 minutes.
Les rubs 🌱
Smoky Rub offers a variety of smoked meats, including beef, pork and poultry. The sandwiches are served with fresh, artisan bread, crisp vegetables and homemade sauces.
La Ferme Roseix 🌱
The Roseix farm is located in the lower Corrèze near Brive la Gaillarde. It is a Limousin cattle farm and a member of the Welcome to the Farm and Pari Fermier network, certified HVE.
CANARD STREET 🌱
Head to Canard Street to (re)discover duck in all its forms. Burgers, tartars, aiguillettes or even duck breast, street food has to hold its own.
la ferme de Lou vincent
Confiturier and caterer from the South-West, Lou Vincent offers a gourmet cuisine that will satisfy all the hungry ones! Several dishes will be offered: burgers, duck breasts or home-made fried potatoes.
Maison basque de bordeaux 🌱
The Maison Basque de Bordeaux, located in the heart of Bordeaux, was founded in 1947. For 2023 Bordeaux Fête le Vin, it will have a festive stand where gourmets can come and try Basque specialities.
Petit marché ornano 🌱
Set up in a wooden stand, the Ornano market offers a whole range of sweet and savoury specialities prepared with fresh ingredients. Vegetables and fruits will be omnipresent in the dishes on sale!
Sweet side
La Ferme des Parettes
The Ferme des Parettes is a small farm of about 20 hectares located in Corrèze, France. It is HVE certified and produces mainly red fruits. The plantations are carried out in integrated agriculture with a parallel breeding of cows fed with locally produced fodder. This combination allows the production of 100% farm ice creams, which can be found at the Wine Festival!
Ben & Sofia Co
Whether it's homemade ice cream, crêpes or organic coffee, visit the Ben & Sofia stand for the perfect sweet break at any time of the day. Their products are selected with great care to make gourmet cones.
Glacier Lacroix
Are you more into a scoop or soft ice cream? In both cases, at Glacier Lacroix, it's home-made!
La Toque Cuivrée
Is it still necessary to present the Toque Cuivrée? Specialising in Bordeaux canelés, the structure will be present to treat locals and visitors looking for a 100% Bordeaux speciality.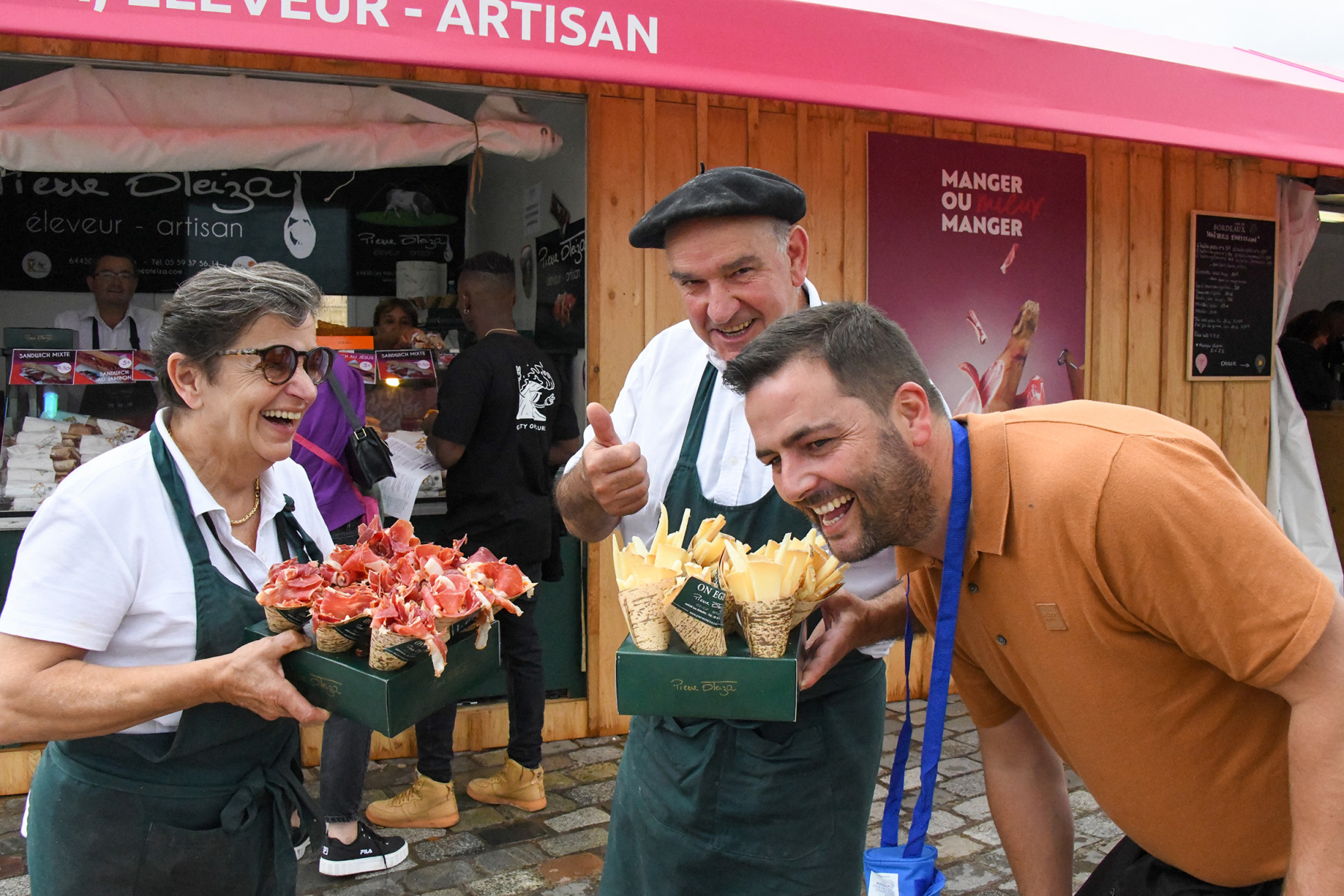 Test the food and wine pairing
The Bordeaux Wine Festival is also an opportunity to try out food and wine pairings in a festive setting. From 22 to 25 June, browse the gastronomic village of the festival and try out the regional culinary specialities scattered along the quays. And to know which dish to choose with your tastings !