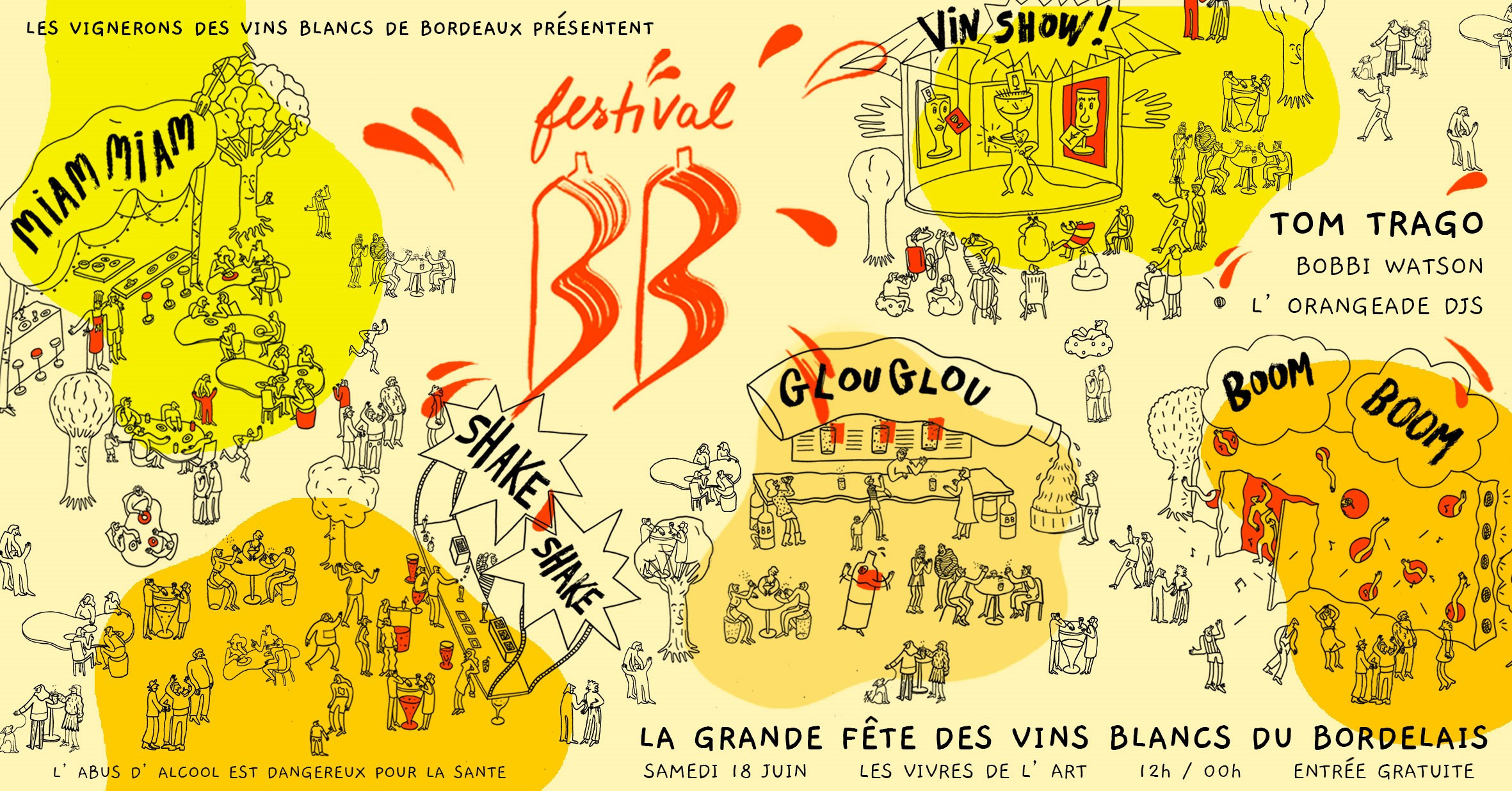 Concert , Tasting
Festival BB
Saturday 18th June , 12:00 to 00:00
Vivres de l'Art
The Great White Wine Festival of Bordeaux
To all those who are curious and thirsty for discoveries and surprises, this event, based on wine, gastronomy and music, is made for you!
Let's drop the preconceived ideas and prejudices about white wines and let us be surprised by their diversity. They are soft, sweet, lively, bitter, refreshing, light or sparkling, they come from Bordeaux, Blaye or the Entre-Deux-Mers and they are ready to do anything to seduce you.
STEP 1: DRINKING AND EATING TO MEET
No more food trucks! Come and discover an original food offer with sweet and savoury proposals from local chefs and restaurateurs. For the occasion, they will come up with a culinary proposal to match your BB...your Bordeaux white wine. On 18 June, you will be able to find, among other things, the soft focaccia of Matsa Caffè, the savoury waffles of the Michelin-starred chef Vivien Durand and the ice cream cones of his pastry chef Marie Le Cossec (Gaùta)... On site, you can also visit the "Shake Shake" area where PAON's mixologists will be concocting unique signature cocktails live.
STEP 2: HAVING FUN TO BOND
Fun everywhere and for everyone! Wine school, giant wooden games, Marie-Jeanne del'Orangeade caravan... But also, for the most daring, the experience/show "Tournée-Manège", animated by a shock comedian/sommelier duo. Do you dare to take a seat?
STEP 3: DANCING FOR LOVE
Ready for the dance marathon? 12 hours of non-stop sound await you at Les Vivres de l'Art, from noon to midnight, outdoors and indoors. Undancefloor sweet, tangy or spicy, there will be something for every taste... musical! Variation without a program to add to the suite: We will soon announce the names of the local and international DJs who will keep you dancing until the end of the night! We are lucky enough to welcome a key figure in electronic music, Tom Trago. We've also decided to give the local scene a chance to shine by inviting two artists who are no longer in the limelight, as they've been rocking the dancefloors of Bordeaux: Bobbi Watson and L'Orangeade Djs. They have one thing in common: they make house music a religion and in the space of a few hard-hitting sounds, they put their audience in a trance!
PARTNERS: Bordeaux Fête de Vin, Bordeaux Wines, Bordeaux Wine School, Nouvelle-Aquitaine
Practical information
Saturday 18th June , 12:00 to 00:00